15th Diversity Procurement Fair A Successful Driver in Engineering Growth for Minority and Aboriginal-owned Businesses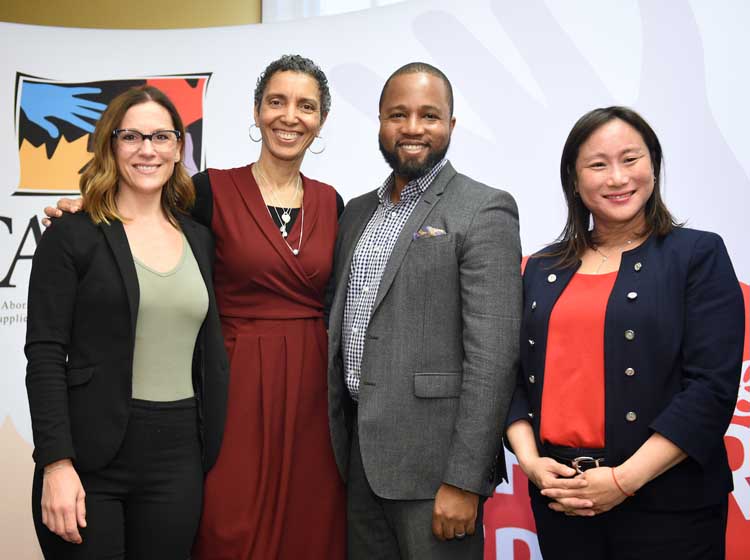 (From left)General Motors' Amanda Krogol, CAMSC President and CEO, Cassandra Dorrington, keynote from Dream Maker Inc. Isaac Olowolafe Jr., MP Jean Yip at the luncheon
With A Focus on the Automotive Industry, Business Matches Made in Financial Services, Food and Beverage, Pharmaceutical and Construction Industries
Toronto – Approximately 400 attendees attended the annual two-day business facilitation and networking event today with the tools to drive their Aboriginal and minority-owned businesses towards a successful future. With the theme of "Engineering Growth," supplier diversity leaders, representing corporations in a wide-range of industries shared their experiences and led workshops on a variety of topics.
(From left) At Reception: FMAV's Sarah Cohen, CAMSC President and CEO, Cassandra Dorrington, Aboriginal drummer Aquaa Nibii Waawaaskone, PepsiCo's Trung Tieu

With a focus this year on the automotive industry, a popular workshop was a look at how it will restructure itself and the implications to manufacturers, suppliers and service providers. Additional workshops included Millennial Entrepreneurs, Future of Procurement, Design Thinking, AI/Big Data, Diversity and the Future of Smart Buildings. CAMSC certified suppliers shared their SD success stories in a morning panel discussion and a luncheon keynote was delivered by Isaac Olowolafe Jr., entrepreneur, philanthropist and founder of Dream Maker Inc. He discussed the barriers diverse communities face in accessing entrepreneurship opportunities in Canada.
At Meeting Marketplace session, CAMSC certified supplier Gursewak Singh and his son Gurjot from New Malwa Express are meeting with Toyota.

"We strive every year to provide the best in thought leadership for all our attendees at this Fair," said Cassandra Dorrington, President, CAMSC. "We are fortunate to have such a strong network of certified corporate and supplier members who not only have the expertise and credibility in the supplier diversity area, but are so generous to share their knowledge with our guests. This is a milestone year for the Fair and organization and I am sure as we continue to grow, the Fair will become even more of a 'must attend' event for organizations that want to lead in SD."