Bell Let's Talk Support for Community Mental Health in Greater Montréal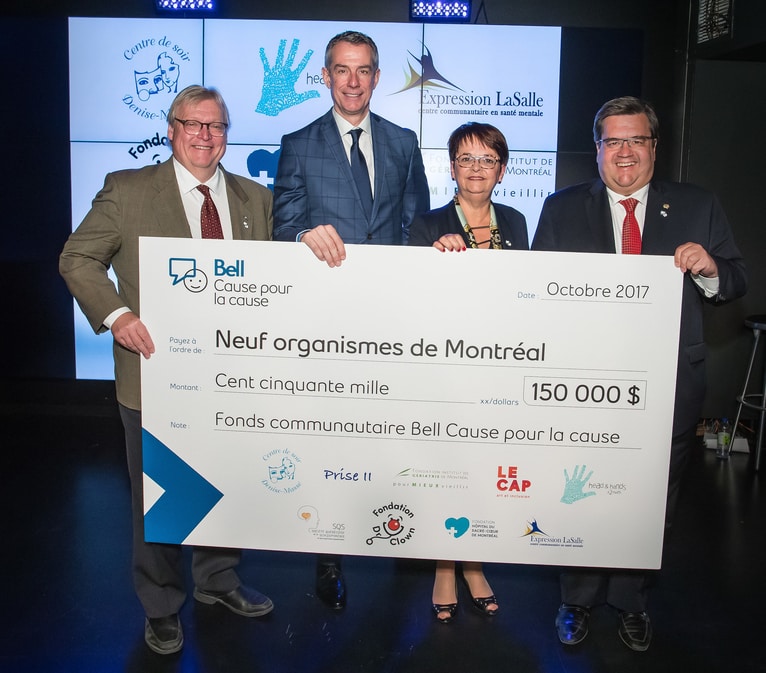 MONTRÉAL,QUEBEC-
In celebration of Mental Illness Awareness Week, Bell Let's Talk today announced grants totalling $150,000 to 9 mental health organizations to improve access to care for people living in the Greater Montréal area.
Dr. Gaétan Barrette, Minister of Health and Social Services for Québec, and Denis Coderre, Mayor of Montréal, joined Martin Spalding, Bell Media's Vice President and General Manager, Québec Radio and Local TV, to make the announcement.
"Bell Let's Talk is proud to support these important organizations and the much needed work they do to help people living with mental illness in Montréal," said Mr. Spalding. "Improving access to care within the community is a priority for Bell Let's Talk. With the addition of these new partners, the Bell Let's Talk Community Fund has provided grants to 26 organizations across Québec this year."
This year's Bell Let's Talk Community Fund recipients in Greater Montréal are:
◽Centre de soir Denise-Massé


◽Expression LaSalle centre communautaire en santé mentale


◽Fondation de l'Hôpital du Sacré-Cœur de Montréal


◽Fondation Institut de gériatrie de Montréal


◽Dr Clown Foundation


◽Head & Hands/À 2 mains


◽Le CAP – Centre d'parallèle de Montréal


◽Prise II


◽Société québécoise de la schizophrénie et des psychoses apparentées (SQS)
"The Bell Let's Talk Community Fund has been instrumental in engaging the community in frank and open discussions on mental illness, and in ending the stigma associated with the disease," said Gaétan Barrette, Minister of Health and Social Services. The support provided to community organizations will help deliver innovative projects to not only improve the quality of mental health care and services, but to make them more accessible. I would like to thank all those who work with these vulnerable people for their invaluable efforts that are consistent with our own."
"Mental health is fragile," added Denis Coderre, Mayor of Montréal. One in five Canadians will experience some form of mental illness during their lifetime. This figure is staggering. This is why mental health is a collective responsibility. It is the premise that drives the City of Montréal's actions regarding the overall health of its citizens. This includes tackling the issue of mental illness being linked to homelessness through the City of Montréal's Plan d'action montréalais en itinérance 2014-2017, the Programme d'accompagnement justice-santé mentale via the municipal court, or the Équipe de soutien aux urgences psychosociales (ÉSUP) consisting of SPVM police officers and social workers who patrol and intervene directly at the frontline with people in crisis or suffering a mental disturbance. Knowing the challenges linked to mental health, I want to congratulate Bell for its social commitment, and acknowledge its involvement in this cause. I hope that it will inspire other private partners to get involved."
"On behalf of the SQS and the 8 other recipient organizations, we would like to thank Bell Let's Talk for supporting our programs and helping us to continue providing and improving mental health care for people in the Greater Montréal area," added Francine Dubé, Executive Director of the SQS. "Our community organizations are a major asset for the public health and social services network. With these generous grants, we will be able to expand our programs and help more people who need support, including our increasingly diverse clientele."