Colour and Culture in Store for Dal's Eighth-Annual Mawio'mi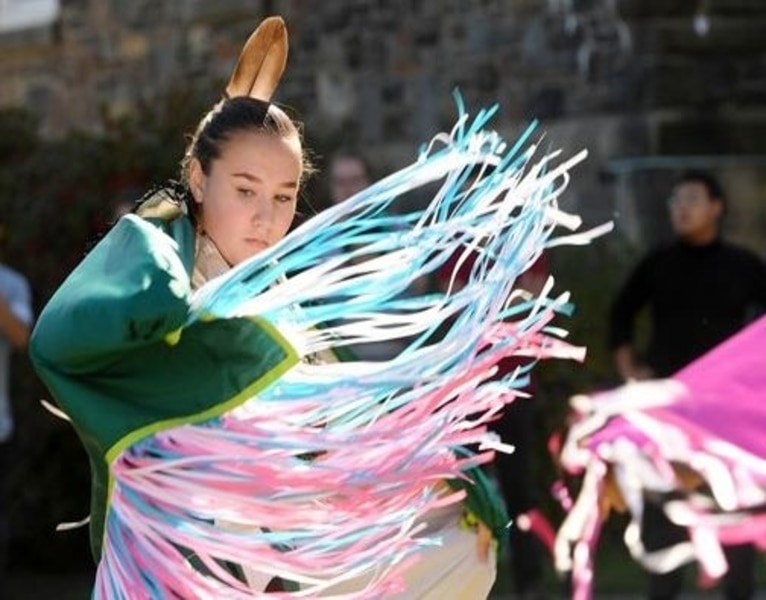 HALIFAX, NS-
Dalhousie hosts its eighth-annual Mawio'mi this coming Monday as part of Mi'kmaq History Month, with a full day of food, dance and drumming planned for Studley Campus.
In Mi'kmaq culture, a Mawio'mi — or powwow — is a spiritual occasion that marks a coming together of community. It provides an opportunity for both celebration and healing.
"I hope that people see the importance of this event for our communities and for the relationship that Dalhousie is working on from the larger picture of reconciliation," says Michele Graveline, Dal's new Indigenous student advisor and one of the event's organizers.
Coming together

Dal's Mawio'mi was first started in 2010 by a group of Indigenous students and has played an important role over the years in raising awareness about Indigenous culture at the university, which sits on traditional Mi'kmaq territory.

As in the past, this year's Dal event will include a full day of activities beginning around 11 a.m. with a traditional feast of Three Sisters chile (corn, beans and squash), luskinikn (traditional bread) and blueberries. The food is free and will be served on a first come first serve basis until it runs out.

A festive, moving and colourful experience

A grand entry at noon will feature a procession of Elders, veterans, dancers, musicians and designated members of the Dal community and serve as the formal entry into the powwow arena.

Dancing begins on the quad at 12:30 p.m. and continues until 3:30 p.m. Attendees can expect a festive, moving and colourful experience.

"The dancers will have different colours and beadwork on that tell the stories of their spirits and give them strength in the dance," explains Graveline.

About a dozen vendors will be on hand all day displaying traditional crafts and providing information and education about different aspects of Mi'kmaqi culture.

"I hope people take away an appreciation and a gratitude that this continues to be carried on this land," says Graveline. "It's important to support these events that help our communities grow stronger."