United Rentals and Rahal Letterman Lanigan Racing Renew Support for SoldierStrong Through Turns for Troops Charitable Program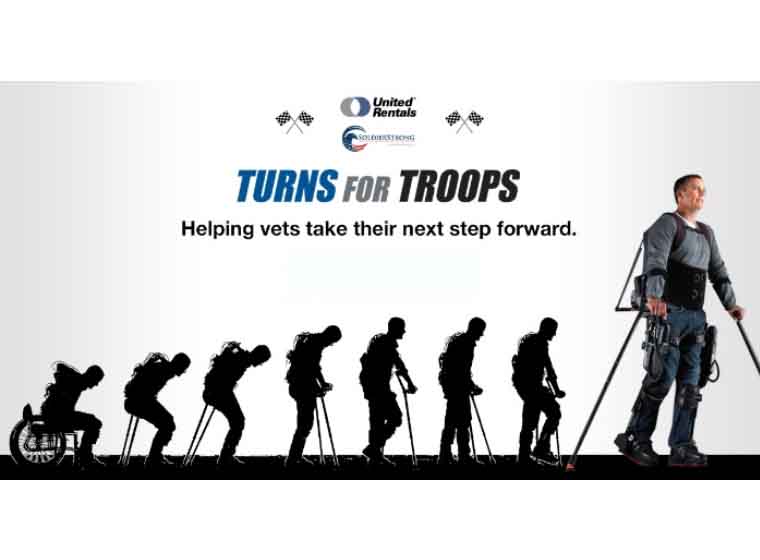 STAMFORD, Conn.-- SoldierStrong, a nonprofit organization dedicated to providing advanced medical technologies to veterans, announced that United Rentals, the world's largest equipment rental provider, and Rahal Letterman Lanigan Racing have renewed their partnership with the charitable organization for a second year. Through its Turns for Troops program, United Rentals will donate $50 to SoldierStrong for every lap Verizon IndyCar Series driver Graham Rahal, driver of the #15 Honda, completes during the 2017 season.
SoldierStrong applies donations toward the purchase of state-of-the-art medical technologies and implementation of educational programs that benefit injured veterans across the country, helping them to—literally—take their next steps forward.
"We are grateful for the generosity of our esteemed partners, United Rentals and Rahal Letterman Lanigan Racing, which enables us to achieve our goal of helping as many veterans as possible," said Chris Meek, co-founder and chairman of SoldierStrong. "It is because of their continued support that we can help more veterans to regain some freedom and independence after bravely serving and sacrificing for our nation."
In 2016, United Rentals and Rahal Letterman Lanigan Racing first partnered on the Turns for Troops program and raised more than $100,000 for SoldierStrong—which went toward the purchase of cutting-edge robotic medical devices that address a variety of physical rehabilitation needs. SoldierStrong donated these technologies to Department of Veterans Affairs (VA) hospitals nationwide, and plans to do the same with this year's proceeds.
"At United Rentals, we're celebrating our 20th anniversary this year and decided to recognize this milestone by highlighting key 'Moments of Service' that support our customers, our employees and the communities in which we work and live. The first 'moment' kicks off this weekend at the INDYCAR Grand Prix, where we've created a specially-wrapped car for Graham and limited edition shirts for the crew that focus attention on the mission of Turns for Troops and SoldierStrong," said Chris Hummel, Senior Vice President and Chief Marketing Officer at United Rentals. "Our organization is proud to partner with SoldierStrong and Rahal Letterman Lanigan Racing, who share our commitment to bettering the lives of former service members."
United Rentals has also committed to doubling the donation amount to SoldierStrong from $50 to $100 for each lap Rahal completes during both the INDYCAR Grand Prix and the Indianapolis 500 this season.
SoldierStrong previously awarded Rahal the Commitment to Service Award in 2016, in recognition of his work raising awareness for the nonprofit organization and its mission to support injured veterans.
"I am extremely excited to be partnering once again with United Rentals and SoldierStrong with our Turns for Troops initiative. It means a lot to myself and to our team that United Rentals continues to support and back such a great initiative like Turns for Troops and it's extremely exciting to have this military salute car for the INDYCAR Grand Prix. The red, white and blue looks amazing!" said Graham Rahal, driver of the No. 15 SoldierStrong / TurnsforTroops.com Honda in the Verizon IndyCar Series. "I'm excited to run up front and raise more money for Turns for Troops and to help our veterans get back on their feet again. I am asking all fans to support and rally around this initiative and help us make a difference in the lives of those who have fought for us, and made a great sacrifice to allow us to be safe and free."
Rahal finished the 2016 season with a fifth-place rank after a win at Texas Motor Speedway and a total of four podium finishes. He is a four-time winner in the Verizon IndyCar Series.
Bobby Rahal, team co-owner of Rahal Letterman Lanigan Racing and 1986 Indy 500 winner and father to Graham, added, "One of the highlights of our relationship with United Rentals, aside from being involved with such a great company with great people, is the Turns for Troops program and our ability to contribute to that through our performance on the track. To meet people like Sergeant Dan Rose and the folks at SoldierStrong, who are committed to helping our veterans who have grievously been wounded, has made an impact on us for sure. To see Sgt. Dan, and now others, benefitting from SoldierStrong is one of the most gratifying things we've ever done. We're thrilled to be a part of the program and we will continue to work with United Rentals and SoldierStrong to see how we can make an even bigger impact."