Women Leaders Discuss the Importance of Diverse Representation on Boards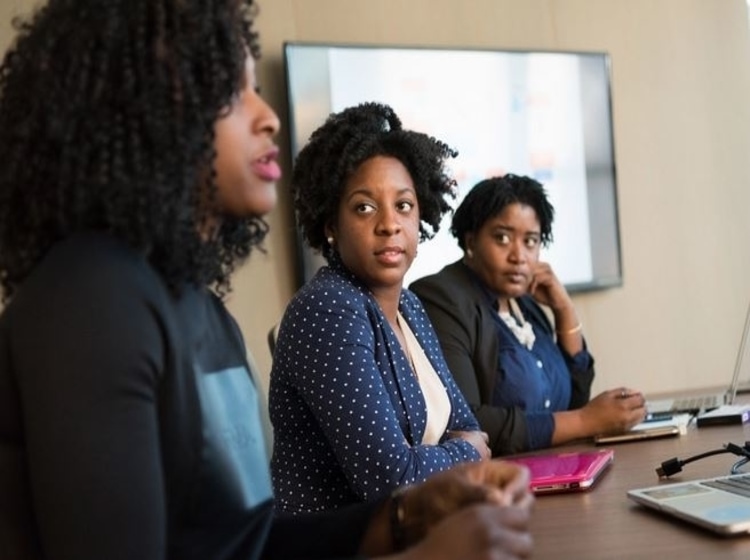 TORONTO, ON-
A new report from the Diversity Institute supported by TD through the TD Ready Commitment, external link assesses the diversity of boards in Canada across eight cities and finds that women, Black people, and other racialized persons remain underrepresented.
Diversity Leads 2020 analyzed 9,834 individuals on the boards of directors across Canada. Women represent 51% of the population but occupy just 41% of seats on boards of directors in cities studied. While racialized people represent 23% of the population in the same municipalities, only 10% of board directors within them are racialized.
Black leaders in Canada, analyzed in this report for the first time, are particularly under-represented. Among 1639 corporate board members, only 13 individuals were Black (0.8%). In Toronto, where 7.5% of the city's population is Black, there were nearly no Black members on corporate boards (0.3%).
"The gaps are acute"
On August 6, 2020, Diversity Leads 2020 was launched during a webinar presented in collaboration with TD Bank Group and the Ontario Chamber of Commerce, external link. The Honourable Bardish Chagger, external link, Minister of Diversity and Inclusion and Youth, opened the discussion by emphasizing the importance and timeliness of this report and how the Government of Canada is putting diversity and inclusion at the center of all it does. "Meaningful inclusion means a seat at the decision-making table, being seen, and being heard. When individuals at decision-making tables are not diverse, we risk building Canadian institutions, legislations, and cities that exclude entire groups of people and perpetuate inequity. That's at the core of systemic racism," said Minister Chagger.
New legislation, Bill C-25: An Act to Amend the Canada Corporations Act took effect on January 1st this year. According to the report, this legislation is the first in the world to mandate reporting by corporations not just on gender but on racialized people, Indigenous people, and persons with disabilities. The legislation requires federally incorporated businesses to report to their shareholders and the government on the diversity of their board and senior leadership and on their strategies to advance inclusion.
Dr. Wendy Cukier, Founder and Academic Director of the Diversity Institute provided highlights from the research concluding: "The gaps are acute, they are profound, and systemic barriers, systemic discrimination and racism are not figments of anyone's imagination. They are manifest in the data." She added "Talented and qualified women, Black people, and other racialized persons are available across Canada to fill senior leadership positions—but continue to be excluded."
"The issue is not the availability of leaders. The issue is how we define leaders, how we define credentials, how we look at skills, and how we make decisions. When you see some companies where more than 40% of board members are women and others where there are none, it's clear it's not the pool. It's about being intentional and making it a priority. If someone says they cannot find any qualified women, racialized people, Indigenous people or persons with disabilities, I say they are not looking hard enough."
There are no simple solutions to complex problems: The report's recommendations stress the importance of action on multiple levels – tackling stereotypes and assumptions and using legislation at the societal level, developing and implementing organizational strategies as well, and fundamentally, making choices as individuals.
The Road Ahead
Michelle Eaton, external link, Vice President, Public Relation at the Ontario Chamber of Commerce moderated a compelling panel discussion with Claudette McGowan, external link, Global Executive Officer, Protect Fusion & Cyber Experience at TD Canada; Desiree Norwegian, CPA, CMA, Owner, Abraflex; Board of Directors at OCNI, CCAB & WWDPI; Paulette Senior, external link, CEO and President at the Canadian Women's Foundation; and Marianne Smith, external link, Partner at Blake, Cassels & Graydon LLP.
Panelists emphasized that while the report's findings are grim, particularly for Black people, they are not surprising. Paulette Senior noted that the barriers Black people, racialized people, and women face in the workplace and society have always existed—but this data makes their impact clear and impossible to ignore. Claudette McGowan explained that the report shines a light on where we are, making it easier to track the path forward.
In addition to the data that the report highlights, personal stories from people on boards who identify as Indigenous, LGBTQ2S+, and persons with disabilities are also examined. Marianne Smith found this section to be particularly telling by illuminating the struggles marginalized people in leadership roles face—challenges that Smith could relate to. Several respondents in the study reported feeling the need to cover, hide, or minimize their identities in the workplace to shield themselves from discrimination and bias.
Desiree Norwegian and Claudette McGowan emphasized that organizations need to encourage employees and leaders to bring their true and full selves to their work. This requires challenging the notion of organizational "fit" that bias and discrimination can often hide behind. Organizations looking to change and grow must recruit and empower people who do not fit inside of a narrowly defined box, Norwegian explained. Indeed, the business case for diversity is clear: evidence has shown that more diverse and inclusive organizations can better respond to increasingly diverse markets and boast increased employee satisfaction and reduced turnover.
The widespread exclusion of Black and racialized people from opportunities like those analyzed in this report are fueling the protests around the globe sparked by the murder of George Floyd. Senior stressed that Canada is not impervious to the racism we see in the United States and, in fact, the same types of racism have existed here for generations. The Black Experience Project, for instance, showed the deep impacts of anti-Black racism in the Greater Toronto Area with only half of the respondents believing Canada was better than the United States. McGowan emphasized that we must move beyond hoping for change and act. Smith added that the swift and society-wide changes we have seen in response to COVID-19 show us how much is possible if we were to decide that real action on diversity and inclusion is a priority.
It is possible to build Canada back better during the recovery from the pandemic, Senior said. "We are capable of significant change as a people, as human beings. We are capable of shifting the reality of what we have built around discriminatory and racist practices in this country."