New federal funding will empower young women to take their place in Canadian politics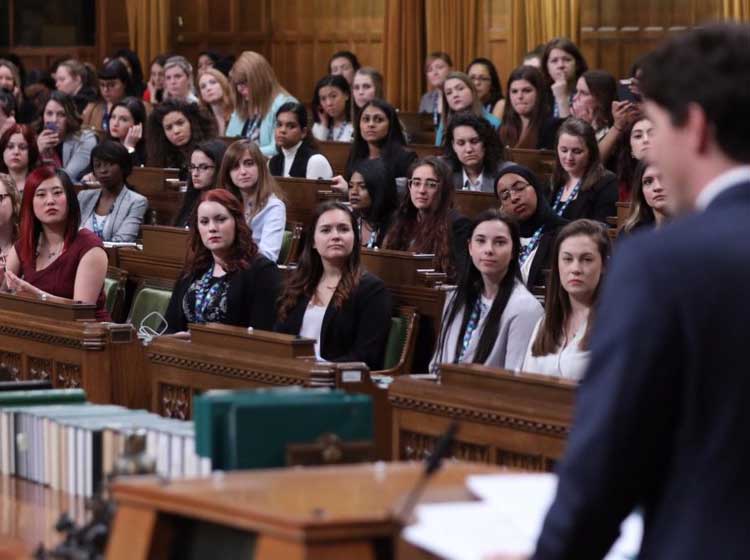 Ottawa, Ontario – The Government of Canada is committed to advancing gender equality and recognizes that when more women participate in politics and civic life, we get decisions that better reflect Canadians' diverse needs and experiences.
That is why today, the Honourable Maryam Monsef, Minister of Status of Women, announced Government of Canada funding for a project that will empower the next generation of women leaders, and increase women's participation in politics with a view to creating more gender-balanced governments.
Equal Voice, a national organization dedicated to electing more women to all orders of government, will receive $3.8 million in funding for their project, Daughters of the Vote. This 36-month project, which builds on the successes of the inaugural Daughters of the Vote held in 2017, will encourage more young women to consider a career in politics or public life. Young women from coast to coast to coast, aged 18 to 23, will be selected to take a seat in Canada's Parliament – one for each of Canada's 338 federal ridings.
Through the project, participants will be engaged in two national events in the House of Commons -- the first cohort in 2019 and the second in 2021. The goal is to ensure that both groups of 338 emerging young leaders become familiar with Canada's political institutions, so they are equipped and inspired to participate in Canada's political decision-making and public policy direction now and in the future. To further that objective, each participant will develop a community pilot initiative in their riding and will be provided with a support system which will include mentorship by former Members of Parliament and Senators, and women in elected positions across the provinces and territories.
More details about when applications for Daughters of the Vote are open will be announced in the very near future.
This project represents one of the ways the Government of Canada is investing in the sustainability of the women's movement; in this case, by working in partnership with the non-profit and private sectors. The Government of Canada welcomes co-investment opportunities like this as part of its plan for the middle class.
Quotes
"Research shows that more women and diversity, in politics, on boards or on teams, leads to better decision-making. Canadian women are courageous, educated and talented, yet they represent only 27% of seats in Parliament, 33% of seats in provincial and territorial legislatures, and 18% of mayors. During the first Daughters of the Vote in March 2017, there were more women occupying seats in Parliament then have been elected in the entire history of Confederation. Canada can and will do better. Our government is proud to support this important project that not only empowers young women from across the country to seek public office, but gives them the tools to lead in their own communities. Efforts like this are essential to ensuring a stronger, more representative democracy where everyone, regardless of gender, has an equal and fair chance at success."
The Honourable Maryam Monsef, P.C., M.P. Minister of Status of Women
"The percentage of women in Parliament continues to rise, albeit slowly, but it is imperative that we provide more access and better support for the diverse and dynamic young women of today who are actively interested in shaping Canada's future. The Daughters of the Vote initiative is designed to provide meaningful engagement along with support and guidance from leading women in Canadian politics. We greatly appreciate the Government of Canada's support for the women leaders of tomorrow."
Nicole Foster, National Chair Equal Voice
"Air Canada is proud to continue its long-standing support for Equal Voice and Daughters of the Vote. Not only have we seen more women become political candidates and elected into governments since our time with Equal Voice, we have also seen women expand their roles in communities around the country as leaders in social activism and justice. Diversity, Equality and Leadership are core values at Air Canada and we are proud that Equal Voice has been highly successful in advancing these areas for the betterment of our country."
Ferio Pugliese, Senior Vice President-Regional Markets and Government Relations Air Canada
"Having diverse and inclusive leadership at the table is critical to driving the innovation growth needed to move our country forward. Imperial is committed to supporting efforts to build the next generation of women leaders."
Theresa Redburn, Senior Vice-President of Commercial and Corporate Development Imperial
"As a founding sponsor of Equal Voice, Johnson & Johnson is delighted that the Government of Canada is funding a second iteration of Daughters of the Vote. Providing young women with the opportunity to imagine themselves in public office is not just an investment in women, but in Canada's future."
Dr. Lesia Babiak, Chair, Government Affairs Council Johnson & Johnson Inc. Canada
"TekSavvy is thrilled to support the Daughters of the Vote program again in 2019. It was so moving to participate in the march in 2017, and to see firsthand how this program changes the lives of so many young women. Their passion for their local communities and causes is an inspiration to us all."
Janet Lo, VP, Confidentiality and Privacy and Consumer Legal Affairs TekSavvy
"Last year, VIA Rail actively supported Daughters of the Vote as one of its two main official transportation partners. The promotion of women in politics is consistent with VIA Rail's commitment to women's active participation in our country's social, environmental and economic governance. That is why we are proud to renew our partnership for this year's event."
Yves Desjardins-Siciliano, President and CEO VIA Rail Canada