Bell True Patriot Love Fund in support of Mental Health initiatives for the military community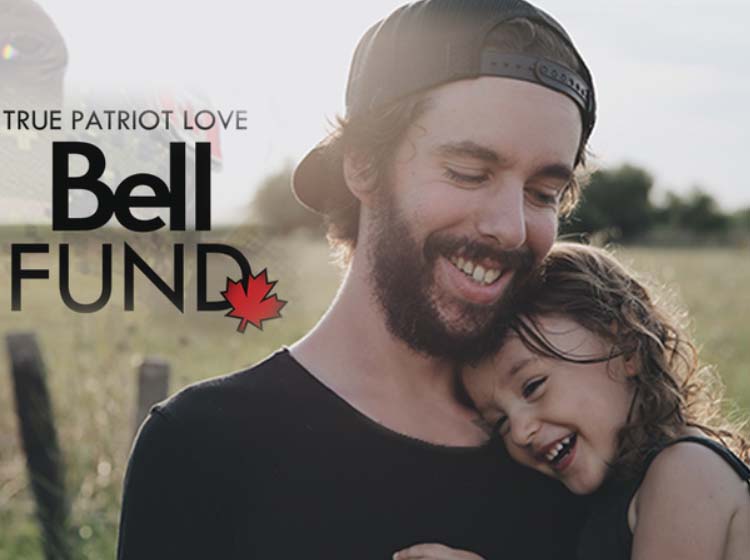 Toronto —True Patriot Love Foundation today announced the recipients of the 2019 Bell True Patriot Love Fund. Ten organizations that provide mental health support to serving members of the Canadian Armed Forces, Veterans and their families received grants to support their important work. The $1 million fund, launched in 2013 in partnership with Bell Let's Talk, is a multi-year initiative supporting mental health programs for the military and Veteran community across Canada. To date, 100 grants have been distributed that have provided life-changing resources.
Programs that received funding offer a wide range of service and support, including mental health workshops, suicide prevention and intervention training, music therapy and mindfulness education, crisis support for youth, and skill development for children of military families offered through courses or classroom sessions.
"True Patriot Love is committed to supporting the mental health needs of those who bravely serve Canada, and the families who stand behind them," said Nick Booth, CEO of True Patriot Love Foundation. "Bell Let's Talk shares our focus on developing and enhancing mental health programs for the military and Veteran community, and we are tremendously proud and grateful to partner with them on this important initiative."
"It is an honour for Bell Let's Talk to support the mental health of Canada's military members, Veterans and their families through the Bell True Patriot Love Fund," said Mary Deacon, Chair of Bell Let's Talk. "We congratulate each of the Fund recipients for their commitment to making a real difference in the lives of all those who serve our country."
"We are grateful to receive a grant from the Bell True Patriot Love Fund to support Peer and Trauma Support System (PATSS) training for Canadian veterans," said Dave Gallson, National Executive Director, Mood Disorders Society of Canada. "There is no substitute for being among people who have gone through the same things and who share their knowledge and experience. The PATSS program assists Veterans and their families in healing and will provide the foundation for Veterans to use peer support to maintain wellness and support each other to live fulfilling lives."
The 2019 Bell True Patriot Love Fund grant recipients are:
•4 Wing Military Family Resource Centre Society, Cold Lake, AB – Suicide prevention & intervention programs
•Kids Help Phone – National texting service for youth from military families
•Mood Disorders Society of Canada – Two-day Peer and Trauma Support System Training program in Québec, Ontario and Alberta
•New Brunswick Military Family Resource Centre, Oromocto, NB– Little People, Big Emotions: Emotional Intelligence for Children, and Parenting the Child with Oppositional Defiant Disorder
•Princess Patricia's Canadian Light Infantry Association – Mental health and suicide awareness workshops in Alberta
•Prince's Trust Canada – Prince's Operation Entrepreneur national mental health training project
•Québec Veterans Foundation – Recreation therapy and creative arts therapy programs at Ste. Anne's Hospital in Montréal and Longueuil
•Roots of Empathy – Preventing bullying and aggression while nurturing positive mental health for children of military families program (PEI, NB, NL, AB, BC)
•Toronto Military Family Resource Centre – Theraplay: child and family play therapy
•Veterans Transition Network – National training of paraprofessionals program