Canadian Journalism Foundation/CBC Indigenous Journalism Fellowships Announced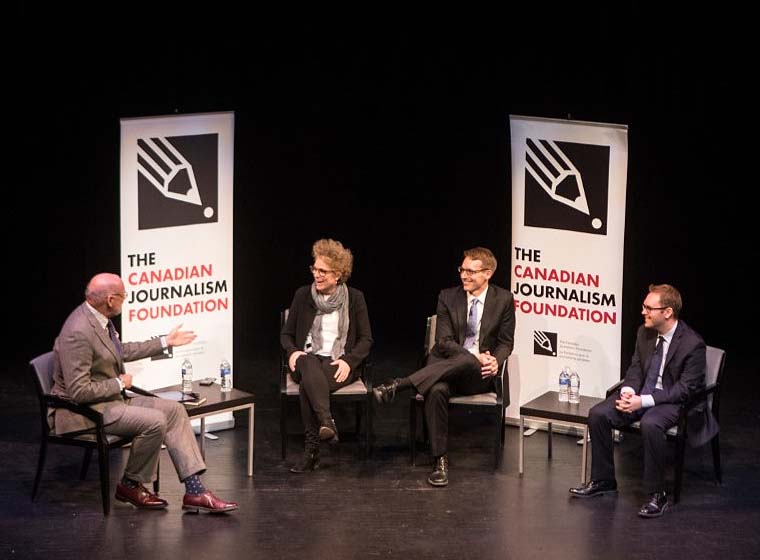 ORONTO -Jasmine Kabatay and Ntawnis Piapot are the recipients of this year's CJF-CBC Indigenous Journalism Fellowships, established to encourage Indigenous voices and a better understanding of Indigenous issues.
The award allows two early-career Indigenous journalists the opportunity to explore issues of interest while being hosted by CBC News for one month at its Indigenous Centre in Winnipeg
Piapot, a Nehiyaw Iskwew from the Piapot Cree Nation in southern Saskatchewan, is completing a master's degree in journalism at the University of Regina. For her fellowship, she will explore how journalism schools in Canada are implementing the Truth and Reconciliation Commission's call to action to incorporate Indigenous studies into their journalism programs.
"Going into newsrooms and surveying the knowledge of reporters on Aboriginal history and present-day issues—and how all of this falls upon our nations—is so very important," says Norma Dunning, Inuit writer, researcher and scholar who serves on the selection jury. "Ntwanis will make the world of journalism pay attention through this project."
Kabatay is an Anishinaabe freelance journalist from Seine River First Nation in northwestern Ontario and a Toronto-based national columnist with StarMetro (formerly Metro News). For her proposal, she will explore the relevance and usefulness of the status card—first introduced in 1956—given the general confusion, ignorance and misconceptions that surround its usage.
"Jasmine's proposal is full of potential," says Duncan McCue, host of CBC Radio's Cross Country Checkup and jury co-chair. "Indian status is a hotly debated issue in Indigenous communities, and her journalistic exploration of this topic will help inform Canadians about the nuances of the identity discussion."
The story or series resulting from the fellowship experiences will be considered for publication or broadcast by CBC News. CJF provides a $3,000 stipend, all associated travel and accommodation costs, a per diem for meals and other reasonable expenses for each fellow.
The awards will be presented at the CJF Awards (#CJFawards) on June 14 in Toronto at The Fairmont Royal York. Tickets, tables and sponsorship opportunities are available.
Jury Co-chair - Duncan McCue, host, Cross Country Checkup, CBC Radio, and a member of the Chippewas of Georgina Island First Nation in Ontario
Co-chair - Bob Lewis, honorary governor, The Canadian Journalism Foundation
Stephanie Brown, senior producer, CBC Indigenous Unit, CBC News Norma Dunning, Inuit writer, scholar, researcher Jack Nagler, director, journalistic public accountability and engagement, CBC News
Karyn Pugliese, executive director, news and current affairs, APTN
Susan Donlan, vice-president, corporate communications, TD Bank Group