Career Centre honoured for innovative education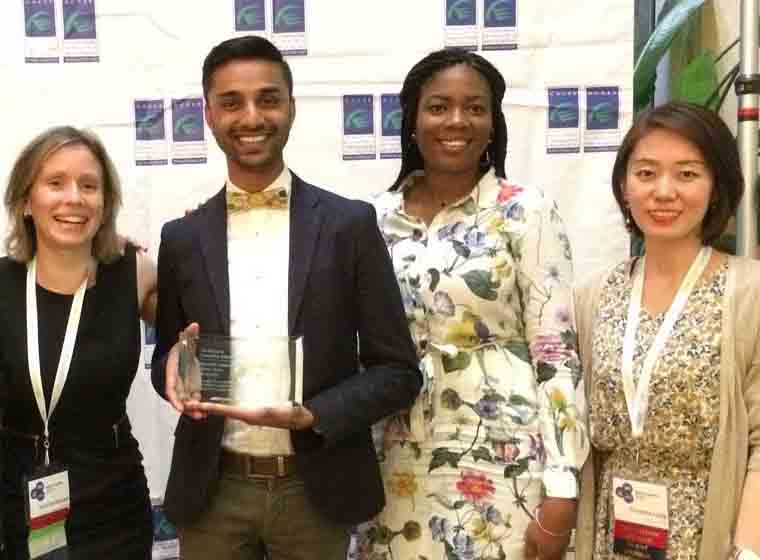 Two innovative programs from the Ryerson Career Centre were recognized with the Excellence in Innovation: Diversity Award from the Canadian Association of Career Educators and Employers (CACEE).

Investing in Inclusion is an employer education series on best practice in equity, diversity and inclusion policy. Voices of Experience is a series of support/networking events for students from diverse backgrounds. The award, shortlisted by committee before being determined by popular vote by CACEE members, was presented to both programs at an event on May 30 in Vancouver. "It's a reflection of our efforts to approach student and graduate employability as a full community responsibility," said Caroline Konrad, director of the Career Centre. "There's so much talk about how we can prepare students for post-graduate recruitment, and we talk so much about the skills gap, but not enough is being done to address: What is the employer's responsibility?"

Jean-Pierre Fernandes, campus engagement specialist, said that Investing in Inclusion is a chance for professionals to learn from other professionals. "I think a lot of companies want to do better but just don't know how, and this is a very low investment on their part to hopefully learn a lot about how to improve their businesses. As well, companies understand that diverse organizations do better in the marketplace. In understanding that, there's more of a desire to invest in inclusion and support those communities."

Investing in Inclusion aims to raise awareness of how employers can proactively seek diverse workplaces. "In my work, I'll ask that question: 'How do you recruit diverse communities?' and they'll say simply, 'We do.' There can be a lack of understanding of the fact that they need to have actual policies in place," said Fernandes. "It's going into those communities, reaching out directly. We worked with CIBC, and they do recruitment specifically around each priority group, with a person dedicated to building relationships in those communities."

Voices of Experience brings industry professionals from priority groups to talk to students about their professional journeys. "They talk about the challenges they experienced and how they overcame them, and they offer students the opportunity to learn what resources they can access when encountering barriers to employment," said Fernandes.

"Students have loved it. One panel that stands out was the mental health one we had in February. The feedback was, 'I feel like I now understand where to get resources; I feel like I'm not alone; there are other people who share my experience.'"

In addition, last month the Career Centre was honoured by TalentEgg, the national graduate recruitment site, with the award of Best Innovation by a Career Centre. The winner is determined by a student-led committee, and honours Ryerson for its innovative approach to career education.