Foreign Investment Opportunities of Latvia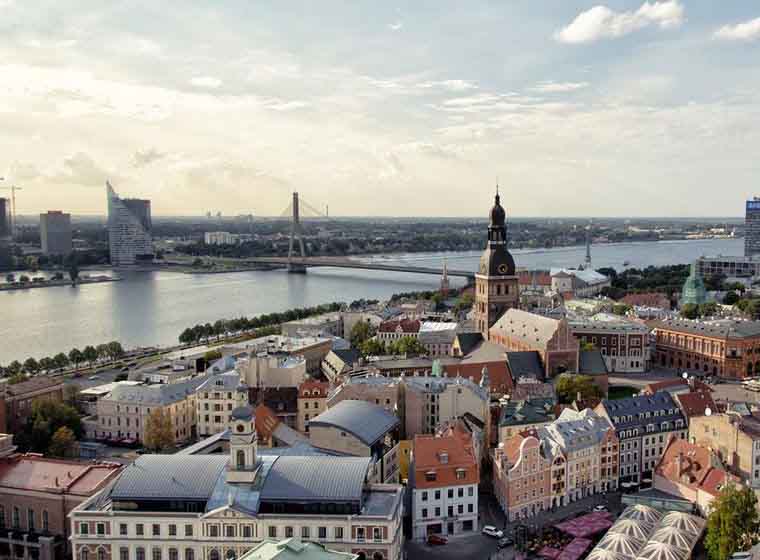 Savvy investors always keep their eyes open for new opportunities. Latvia may not be on the radar of many or make a big market splash, but it offers strategic foreign investment opportunities for those seeking a prime market gateway.
By William Bell
Not all destinations that offer exceptional investment opportunities are in the limelight, and Latvia fits that description. It is a country in a position of geographic and strategic importance. This is a country that offers a market gateway to economically developed regions including the United States, European Union, Russia, and parts of Asia. A member of the European Union and Schengen, the World Trade Organisation, and NATO, Latvia needs foreign investors to sustain continued economic growth.
This is all largely due to its small population. There are fewer than 2 million people at last count, but that has not stopped this dynamic country from achieving a high World Bank "Ease of Doing Business" 2017 rank of 14 out of 190 economies. It has three major ports, an international airport, free trade policies, an educated and skilled workforce, stable government, and foreign direct investment (FDI) opportunities across a range of industries, including science and technology.
Resilient and Progressive
It is understandable if Latvia sounds too good to be true, but all the advantages it offers investors are real.
The country sits on the edge of Eastern Europe, between Lithuania and Estonia. The three countries together form the Baltic with a joint population of more than 6 million people. There is a small Latvia population, but this is a very progressive and resilient country. It gained independence from the Soviet Union in 1991 and was severely impacted by the 2008 financial collapse leading to the Great Recession.
Since the recession, the country has spent nearly a decade improving the ease of doing business, strengthening its regulations to protect foreign investors, negotiating trade deals, and working on gaining entrance into organisations like the OECD (Organisation for Economic Cooperation and Development).
The U.S. State Department's "Investment Climate Statement" analysis names critical advantages that Latvia provides. Topping the list is the fact it is a regional hub – a link between the markets in the European Union and in Russia and eastern central Asia. There are three ice-free ports – Riga (the capital), Ventspils, and Liepaja. The ports have excellent linkage to a well-developed railroad, pipeline and road system. The Riga International Airport continues to expand to accommodate more air traffic.
The workforce is multi-lingual, with approximately 70 per cent of people under 40 years old able to speak English, German and Scandinavian languages. Many people speak Russian, as would be expected. However, the official national language is Latvian, which is very similar to Lithuanian.
There are four large universities – Riga Technical University, Riga Stradins University, University of Latvia and Latvia University. The country has promoted the development of a modern workforce with skills the technology-driven world economy needs – engineering, physics, telecommunications, life sciences, electronics, logistics, etc.
Labour costs are low. The unemployment rate is significant at 9.4 per cent, but it is comparable to the unemployment rate of 9.1 in the Euro Area.
Opportunities Across Industries
The corporate income tax rate is also low at 15 per cent. The largest amount of FDI inflows come from European Union countries, and Latvia would like to expand FDIs from other countries like the U.S. The majority of FDIs in 2016 were in financial services, real estate operations, manufacturing and trade.
A number of international companies are already operating in Latvia, including Coca-Cola, Generex Biotechnology, Schneider Electric and Bucher Schoerling. The Latvian government sees great potential for foreign investments in woodworking, transport and storage, metalworking and mechanical engineering, information technology, green technology, life sciences, health care, and food processing. However, Latvia is particularly interested in promoting its technology industry, which is true for many economies.
This wide range of industries indicates Latvia is ready to welcome a variety of companies, and the government offers financial assistance in order to grow its market economy. For example, small-to-medium enterprises (SMEs) can get loans and semi-loans.
Setting up business in Latvia is an efficient process. Companies can choose from among five legal entities: Limited Liability Company, Individual Merchant (sole trader), Joint-Stock Company, Partnership, and Branch Office. The laws protect intellectual property rights, the right to own real estate, bilateral agreements on the promotion and protection of investments, and EU–driven trade and customers procedures.
Four special economic zones encourage foreign investments – Riga Free Port, Rezekne Special Economic Zone, Ventspils Free Port and Liepaja Special Economic Zone.
In 2016, the government passed a new startup law that creates a flat monthly tax amount per employee for startups to help innovative companies manage payroll costs. The Foreign Investors' Council in Latvia (at www.ficil.lv) is a good source of information.
Imports or Exports: Wealth of Opportunities
Some companies will prefer to enter the Latvia market via import or export activities.
The top five export categories are wood; electrical; machinery and computers; vehicles; and beverages, alcoholic drinks, and vinegar. Right now the fastest growing export is electrical machinery and equipment.
The top imports bought from U.S. companies are electronic equipment, machinery, vehicles, mineral fuels and pharmaceuticals. The fastest growing imports from all countries are lead, wood pulp, aircraft and spacecraft, cereals, collector items and art, vegetable products, beverages, wood, gums and resins, and gems and precious metals.
The Investment and Development Agency of Latvia (LIAA at www.liaa.gov.lv), the Central Bank of Latvia (www.bank.lv), and the State Regional Development Agency (www.vraa.gov.lv) can provide information and guidance to foreign companies interested in pursuing business opportunities in Latvia.
The LIAA offers an investment opportunities database and a matchmaking service. This service enables potential investors to connect with Latvian companies that are interested in joint venture opportunities and a possible M&A (contact the investment project manager in the Investment Promotion Division).
Additionally, the Latvian Chamber of Commerce and Industry has seven regional offices in Latvia, and there is an American Chamber of Commerce in Latvia and a Latvian Chamber of Commerce in Fairfax, Va., in the U.S. With so many resources, any company looking for new opportunities can find plenty of assistance.
Latvia is a dynamic country that is quietly making a big splash in the global market.