Louis Roy of Optel Group Named Canada's EY Entrepreneur Of The Year™ 2017 National Award Winner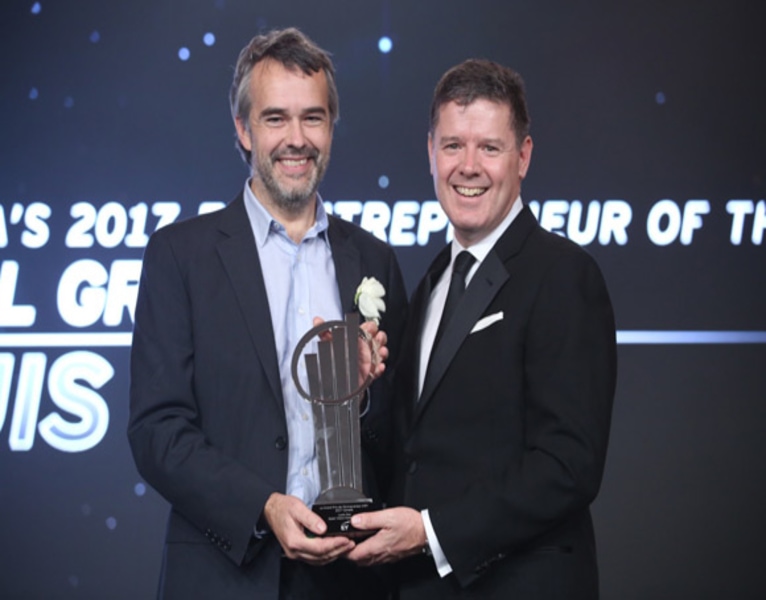 TORONTO, ON-
Louis Roy, President and Founder of Optel Group – a leading multinational provider of traceability systems for pharmaceuticals, medical devices, hospitals and more – is named Canada's EY Entrepreneur Of The Year™ 2017 National award winner.
"Roy has shown extraordinary leadership in a continuously evolving industry, pushing Optel Group to break traditional boundaries and create innovative solutions to meet growing industry needs," says François Tellier, EY Partner and National Entrepreneur Of The Year Program Director. "What's most inspiring is Roy's vision to affect positive change, a commitment he has embedded into the company values."
The independent panel of judges were inspired by Roy's mission to build a viable world for the next generation by deploying technological solutions that solve collective problems. Optel Group is now ensuring the quality of consumer health products and helping to prevent the counterfeiting of pharmaceuticals and medical devices in Brazil, India and Ireland.
"We're honoured to award Roy the title of EY Entrepreneur Of The Year 2017 Canada," says Tellier. "And we're excited to have him represent Canada in Monaco next June, alongside impressive entrepreneurs from around the world."
Roy accepted the award at a black-tie ceremony in Toronto last night. The event marked the culmination of five regional galas that drew more than 5,000 attendees nationwide. Regional winners Roy went up against are:
Atlantic:
Joseph Randell of Chorus Aviation Inc. (TSX:CHR)
Ontario:
John Sicard of Kinaxis Inc. (TSX: KXS)
Pacific:
Rob McCurdy of Pinnacle Renewable Energy Inc.
Prairies:
Jeff Granberg of PD Group of Companies Inc.
Canada's entrepreneurs are the backbone of the economy. In this year's program, there were 162 finalists representing a variety of industries across Canada. Together, their businesses employ more than 33,350 people and generate over $8 billion in revenue annually.
Next up, Roy will compete with more than 50 other country winners for the title of EY World Entrepreneur Of The Year 2018 in Monte Carlo, Monaco, on 16 June 2018.

EY Entrepreneur Of The Year National Special Citations awarded
The national judges awarded ten entrepreneurs, who were regional category winners from across Canada, for the unique mark they've made on the entrepreneurial landscape and the diverse way they embrace the entrepreneurial spirit.
Atlantic
George Palikaras
Metamaterial Technologies Inc. | Special Citation for Early-stage Innovation

Ontario
Debbi Conzelmann
King Cole Ducks | Special Citation for Family Business Transition


Prairies
Eric Boisjoli, Yvan Boisjoli, Stefan Maynard, Jason Myers
Bold Commerce | Special Citation for Entrepreneurial Leadership


Quebec
Christiane Germain, Jean-Yves Germain
Groupe Germain Hôtels | Special Citation for Brand Excellence

Sumitra Rajagopalan
Bioastra Technologies Inc. | Special Citation for Purpose-driven Innovation

EY Entrepreneurial Winning Women™
The gala also honoured Sarah Segal of SQUISH Candy who was recognized in EY Entrepreneurial Winning Women™ Class of 2017.
The program acts as an accelerator to help successful women entrepreneurs gain knowhow, mentorship and resources to grow their business, access capital, and develop the networks necessary to become a formidable force in their industries.