Overcoming Challenges With a Never-Quit Attitude in Work and Golf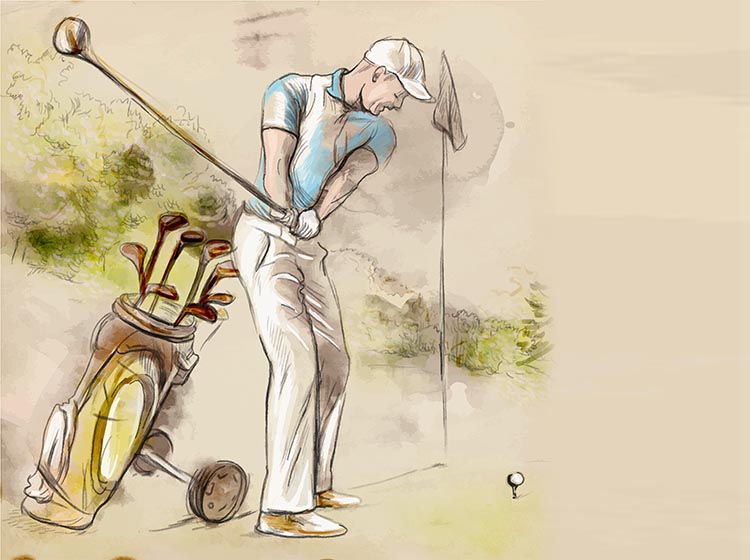 So many times, golfers and businesses fall so low they look like there is no comeback possible. Failure, whether talking about golf or business, is sometimes simply not an option.
By Vincent Pane
Failure can rise out of the ashes like a phoenix, surprising people who were certain the end is in sight. For golfers, it might mean falling to the bottom of a leader board, not qualifying for tournament play, or experiencing a debilitating injury that prevents or impedes play. A business may seem like it is on the verge of failure when its products become outdated due to innovative products of startups disrupting the marketplace, poor management or runaway expenses reducing profits.
Golfers and businesses hit serious slumps or circumstances that seem insurmountable, but some find innovative and often surprising ways to overcome them.
Get One Done
Some of the greatest comebacks in golf history have been the result of golfers who show a remarkable resilience and adopt a never-quit attitude.
Sometimes the decline in golfers is due to issues like physical injury or illness. J.B. Holmes had brain surgery in 2011 to address a structural defect called Chiara malformation in the cerebellum. This is the part of the brain that controls balance. In 2014, he captured his first PGA Tour win at the 2014 Wells Fargo Championship, the first since 2008. His return was remarkable for more than recovering from brain surgery. He injured an elbow while practicing golf after his brain surgery, showing his determination by returning to the course. Then he broke an ankle. He said after his PGA Tour win, "It's been a long journey for me. I've had some ups and downs. It's a great feeling to be out there and to get one done."
There are so many stories like these in golf. Ben Hogan suffered a serious vehicle wreck and returned. Babe Zaharias had her colon removed due to cancer, yet returned the next year to win five times.
Steve Stricker had a 10-year slump, winning one time during that period and eventually losing his tour card. Many people would just give up, but Stricker recovered because he refused to admit defeat. Instead, he finally figured out what he was doing wrong and went on to win nine times between 2007 and 2012.
True Competitor
Of course, most golfing fans, and even those who do not watch the game, keep an eye on Tiger Woods.
After a marital scandal and multiple surgeries spanning many years, Woods was trying to make a comeback. Then he got a DUI, which turned out to be due to a reaction to prescription drugs. Now 42 years old, it would be easier for him to retire from golf and live off his fortune and contracts with companies like Nike, TaylorMade and Bridgestone. Woods had not won a tournament since 2013 until finally notching a win in fall 2018..
Instead of retiring, Woods decided to reach championship status again and is making a comeback. Woods is proving that golf comebacks are no easier now than they were 60 years ago, and endurance and determination, along with a set of goals, is the only path to potential success.
Not trying, it seems, is not an option for Woods. Woods has had a tremendous year in 2018 so far, earning more than $5 million. He could just sit back and enjoy his wealth, but he is a true competitor.
Tumultuous Histories and Current Success in Business
Golf champions and businesses fail but make comebacks. In business, near failures are due to things like failing to innovate, poor product designs and poor management. Some companies end up in bankruptcy, but some find ways to recover.
Netflix is a classic turnaround story. In 2011, the company's stock rose and fell, and rose and fell, making investors nervous. Originally in the DVD rental business, the company added streaming content. However, when customers were charged separately for DVD rental and streaming content, customers were very unhappy. The stock took a deep dive and things looked very grim. When prices were raised, the stock fell again with the company losing almost 75 per cent of its value. The general feeling was that the company could not survive. The rest is history, as the old saying goes. The company found a way to add incremental revenues and used its technology savviness to deliver original streaming content in the form of shows, series, and movies.
Many big-name companies that are now very successful have tumultuous histories. They include Uber, GoDaddy, Apple, FedEx, Delta Airlines, LEGO and many other familiar companies that have faced times so difficult they seemed almost certain to fail.
There are also many entrepreneurs who had rocky starts but kept pursuing their dreams until finding success. Vera Wang, the famous fashion designer now known for high-class wedding gowns, worked for Vogue where she failed to get an editor-in-chief position. So she left and became a designer, and now she is one of the world's most famous designers.
Deciding Not to Fail What led the turnarounds?
Champion golfers who are written off as failures will return to the golf course and work to regain their strength, revamp their golf swings to accommodate physical changes, and enter tournaments over and over again. Businesses redesign their products, focus on their strengths and evaluate their weaknesses, and re-enter the marketplace with a new determination to win.
Deciding not to fail is just not an option for champion golfers and champion businesses. However, it can take years to recover from a near failure.
The common thread is that people – golfers or business people – who keep their focus on end goals have a vision of winning. They simply refuse to let go of their goals because they have the power a vision conveys.